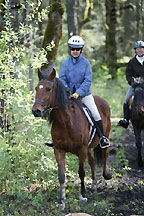 Ann Shilling– Trails Contact

There are trail preservation regulations within the King County Comprehensive Plan that are there due to the diligent work of the founding members of the King County Executive Horse Council. Whenever your trails are threatened by development, you can apply to the County and the Developer of the land to preserve those trails. There are many examples in the County now of the success of equestrians preserving their local trails due to these regulations. Join us to continue this vital work! If you are concerned about blockage or closure of a trail, please contact us.

KCEHC's King County Trail Guide
Our online guide provides information about publicly-accessible horseback trails within the lower elevations of King County.Listings include trail description and details, directions, current status, amenities, and links to maps and more...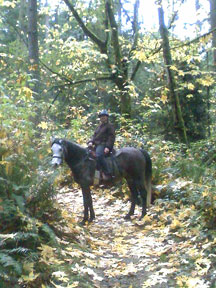 PERMITS for TRAIL RIDING Overview
In December 2015, Campbell Global of Portland OR bought the Snoqualmie Forest (where Tokul trails are located, adjacent to the Snoqualmie Valley Trail) from Hancock. They are continuing the permit access system, with annual non-motorized permits at $50 and day permits at $8, sold on their Snoqualmie Forest website.
As of January 1, 2013, Hancock Forest Management requires permits to access their lands in the Snoqualmie Forest, east of Fall City and Carnation, and the White River Forest east of Enumclaw. The annual permit price is $45 per person, and a separate one is required for each forest. You can get individual day permits for $8, an option for people who ride those areas only occasionally. For more information on the permits, see our info page or Hancock's website.
As of July 1, 2011, you need a WA State Discover Pass to park at WA State Parks and DNR Recreation areas. This includes popular King County riding destinations such as Bridle Trails State Park and Tiger Mountain State Forest. For more information about the Pass and ways to get one, see http://www.discoverpass.wa.gov/.